Gluten-free Chocolate Sponge Cake
Serves 6–8, depending on how generous you want to be with the slices…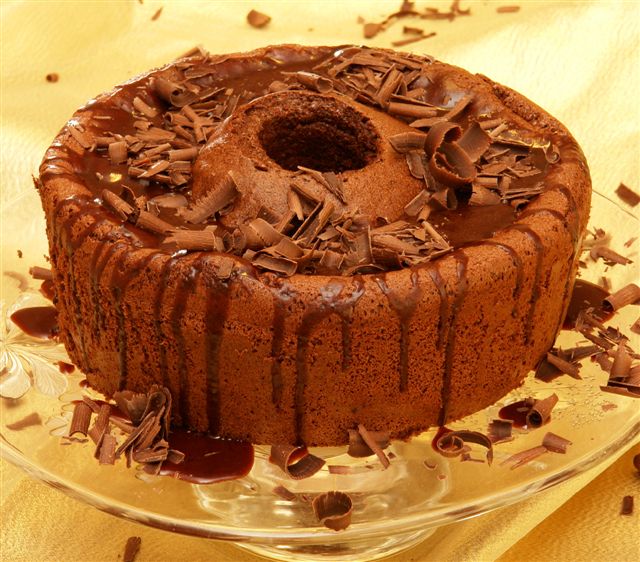 Ingredients
8 eggs
1¼ cups sugar
5 T. cocoa
2½ – 3 & 1/2 T. potato starch
Method
Preheat the oven to 350°F / 180°C.
Prepare a large 10″ tube pan. Although most sponge cakes say not to grease the pan, I do grease it very lightly. Then dust it lightly with a bit of cocoa, shaking off the excess. Set aside.
Separate the eggs, putting the yolks into one bowl and the whites into another bowl. Beat the whites until they are nearly stiff. Then add in half the sugar while continuing to beat the whites. Turn off the beaters and set the whites aside.
Beat the yolks until they are thick. Add the remaining sugar, and beat them until they are creamy. Add in the cocoa and potato starch and beat just another minute or two until they are incorporated. Turn off the beaters.
Fold both mixtures together using a rubber spatula. While folding, if the batter seems too liquidy, you may add in a bit more potato starch. Pour this into the prepared tube pan.
Bake for 50–75 minutes, checking to make sure it does not burn. When the cake is done, remove it from the oven and place on a wire rack. Leave it for 15 minutes.
Now there are two options of how to release the cake, whole, from the pan.
After the first 15 minutes, turn the cake upside down by balancing it onto several flipped over cups and allowing it to cool while in this upside down position. My mother always does it this way and it usually works. Then, when it's completely cooled, you release the cake from the pan with a sharp knife and gently take it out of the pan.
The second way, which is how I usually do it, is: prepare a large piece of foil, lined with one or two paper towels on it. After the cake has cooled for 15 minutes, slide a long, sharp knife around its edges, as well as around the innermost edges. Carefully flip the cake pan over onto the prepared foil. Remove the pan. Leave the cake to sit until it has cooled more, then wrap it up gently and freeze until the day of use.
To create the delicious glaze you see featured here which I also use when making brownies:
1 cup powdered sugar
2 T. oil
2 T. cocoa
2 T. very hot water
Mix this all together in a small bowl by hand with a spoon. If it's too thin and runny, add a bit more powdered sugar to it. If it's too thick, add drips off water to it until it is still thick but can be spread. Allow it to drip and run all over the top of the cake, downwards, into its crevices and dents. You can then top it off with chocolate curls, just like in the photo. The cake itself can be frozen; I then add the topping to it directly before I want to serve it.
Great Presentational Effect on Your Crowd!