Double Layer "Shehakol" Cake
So rich, you will be amazed that it's wheat free!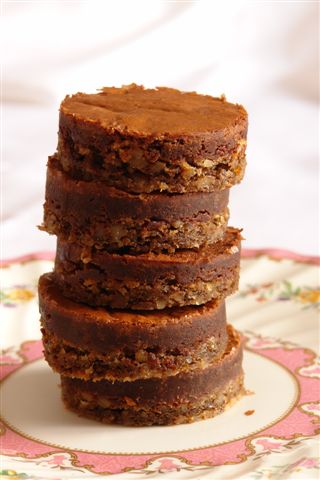 This recipe is from Mrs. Esther Strom, the mother of Tzippy, my graphic artist …which means it's of course, incredible!
Tzippy says: This makes a large oven-size tray, approximately 13″ x 15 " wide, (NOT a jelly roll pan, this pan should be deep and wide) and, because it's very rich, you should serve it sliced into very small, bite-sized pieces. It's such a winner that we make it during the year as well. It's actually quick to make because while the base is baking you prepare the next layer.
Base
Ingredients
13 eggs, separated
1½ cups sugar
1 lb. / about 450- 500 grams ground hazelnuts = 4 & 1/4 cups ground nuts
Method
Preheat the oven to 350°F / 180°C.
Separate the eggs, setting the yolks aside for the top. Beat the whites until they are just beginning to turn white. Add in the sugar gradually and finish beating. Lower the mixing speed and add in the hazelnuts slowly. When it's all incorporated, turn off the mixer. Line your baking pan with parchment paper and spread the batter into it. Bake for 35 minutes. Remove from the oven.
Top
Ingredients
½ lb. / 225 grams chocolate
3/4 cup sugar
2 teaspoons coffee granules, dissolved in a drop of hot water
1 cup of oil
Egg yolks set aside from the base recipe
Method
Melt together the chocolate, sugar, coffee, and oil in a double-boiler over a medium flame.
Beat the yolks until they are thick and fluffy. Add the melted chocolate mixture to this egg mixture and mix by hand until incorporated.
Spread this on top of the baked cake base and place it back into the oven to bake for another half hour. The cake will still be moist and will start to "crack" a bit on top when it is ready. Remove from the oven promptly and cut into bite-sized squares when cooled. Serve it as 'minis' in individual cupcake holders.
In the photo shown here we tried another way of serving it. There was nothing left when the photo was finished…