Fruited Spinach Salad
This is so colorful and healthy!
Serves 6–8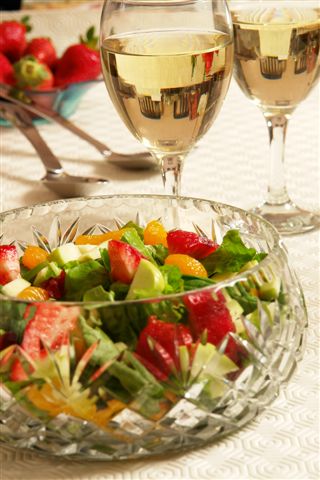 Ingredients
8 romaine lettuce leaves
2 lbs. / 1 kilo / an entire box of fresh spinach, washed and spun dry
1 can mandarin oranges
3 large green apples, chopped
1/2 cup craisins
1 cup fresh pomegranate seeds
3 kiwis, sliced into circles
Method
Arrange the salad in the bowl as follows:
Tear or cut up the romaine lettuce leaves and toss them together with the spinach leaves. Arrange the mandarin oranges, apples, craisins, and pomegranate seeds all over; toss this together lightly by hand so it looks nice. Drizzle the dressing all over. Arrange the kiwi slices decoratively on top and serve.
Citrus Mayonnaise Dressing:
1 cup light mayonnaise
1/2 cup orange juice concentrate or fresh orange juice with pulp
1/4 cup freshly squeezed lemon juice
Mix the mayonnaise together with the juices until it can be poured or drizzled and serve.
Variation: Substitute the following fruit combo instead of what is listed above:
5 ripe pears, cubed
4 peach halves, canned or fresh, cubed
2 bananas, sliced, with a bit of lemon juice added to them so they won't turn brown
1/2 cup toasted almonds, crushed